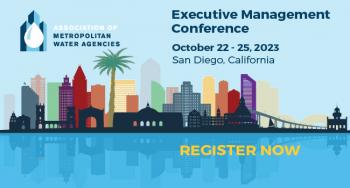 Betsy Allen-Manning,
Top Leadership Speaker and Best-Selling Author,
to Headline 2023 EMC
The AMWA Executive Management Conference (EMC) provides the best opportunities for executive-level education and peer-to-peer exchange networking in the water sector. This year, the premier utility management event will take place in sunny San Diego, Calif., from October 22-25, 2023. The 2023 EMC will provide a transformative learning experience, with previous attendees stating:
"Spot on sessions and good opportunities for networking with water professionals."
"I'm very impressed with the overall conference and will ask to attend next year. I have already shared information within my leadership team and have some thoughts to further develop my department."
Keynote Speaker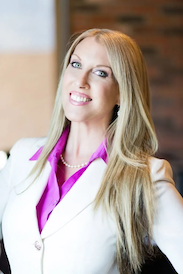 On Monday, October 23, the EMC will kick off with a presentation and interactive workshop with dynamic speaker Betsy Allen-Manning, for two power-packed days of dynamic programming. As founder of Corporate Culture Training Solutions and a top leadership motivational speaker, Allen-Manning has appeared on FOX, CBS, ABC, NBC, and TEDx. Her specialties include:
Improving workplace culture;
Creating better employee experiences; and
Equipping leaders to attract, engage, motivate, and retain talent in a hyper-competitive marketplace.
She will provide attendees with proven approaches to workforce development, and participants will leave with specific actions to improve their teams. As a bonus - all program registrants will receive a free copy of Allen-Manning's: Win with People: 52 Keys to Connect and Communicate Successfully.
Additional Agenda Items
In addition to addressing workforce development, the EMC will also include programs tackling top-of-mind issues such as:
Application and utilization of technology in various contexts;
Overview of PFAS and emerging contaminants; and
Perspectives on affordability and environmental justice.
The EMC will also provide attendees with the benefit of:
Networking with colleagues at breaks, lunches, and receptions;
Honoring exceptional utility management at AMWA's annual awards ceremony; and
Participating in new Wednesday programming or a site visit of local water facilities.
Bring a Guest
AMWA encourages members and subscribers to bring a guest to enjoy the beautiful location. All guests attend Monday and Tuesday lunches and all receptions for free - but must submit the guest registration form.
Don't delay — plan to join colleagues from across the country and register today at the best possible rates!
Engage with AMWA on LinkedIn, Twitter, Instagram, and Facebook by using #2023EMC.