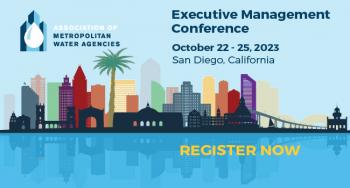 An Unforgettable Experience
Awaits You! 
It's official — the AMWA 2023 Executive Management Conference (EMC), set to take place in sunny San Diego, October 22-25, has broken attendance records, making it AMWA's largest conference in the last 18 years! This year, executives from water utilities in Birmingham, Boston, Houston, Los Angeles, New York, and Seattle have secured their spots. As the conference approaches, we want to ensure you don't miss this premier event. Let us guide you through what awaits when you register today.
The Art of Communicating
Our program revolves around cutting-edge issues, including advocating and communicating amid shifting priorities and instant information. During this engaging panel discussion, you'll gain invaluable insights into the significance of simplicity, credibility, transparency, accountability, and competency in messaging. Our expert panelists will share best practices to help you effectively communicate complex topics, such as PFAS, in plain language. 
Honoring Innovation and Founding Members
This year, in addition to introducing AMWA's new Environmental Justice & Equity Awards, we'll also pay tribute to our dedicated founders who have been with AMWA since the very beginning during our Annual Awards Luncheon.
Bring a Guest
Why not bring a guest (must register, see sidebar for form) along to experience everything San Diego offers and make the most of your time here? Guests enjoy luncheons and evening receptions for FREE, so take advantage of this opportunity!
Reception with a View
The EMC will feature three evening networking receptions set against the stunning backdrop of the resort, allowing you to connect with your colleagues in a relaxed atmosphere and enjoy breathtaking views.
San Diego's Culinary Scene
While San Diego is renowned for its sunshine, beaches, and palm trees, it also boasts a remarkable culinary scene filled with delicious, iconic foods. Check out our Restaurant Guide (see sidebar) to help you discover the best places to dine.
Act FAST
Due to high demand, our housing block at the Loews Coronado Bay Resort, the conference hotel, is SOLD OUT! However, we've secured additional rooms at the Coronado Island Marriott Resort & Spa to accommodate all registrants. Reserve your room at AMWA's negotiated group rate by the Tuesday, October 10 deadline.
Don't continue to delay. Register today and join your colleagues for an unforgettable experience.