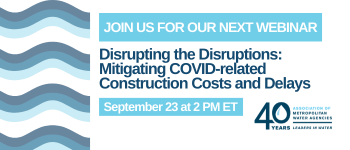 From customer-facing services to capital improvement projects, the ongoing COVID-19 pandemic continues to cause extensive delays throughout the water sector. A shortage of commodities to complete needed projects coupled with increasing costs have CEOs uncertain about the best course of action to take. In response to growing concern, AMWA and Carollo Engineers will convene a webinar, Disrupting the Disruptions: Mitigating COVID-related Construction Costs and Delays, on Thursday, September 23 at 2:00 p.m. ET.
The speakers will help water utility executives and other stakeholders better understand the challenges the sector is experiencing in completing construction projects due to commodity pricing strains and supply chain issues. Leaders from water utilities, a construction executive, and a chief estimator will comprise the panel. The speakers will examine utility leadership's response to the evolving circumstance, address stakeholder concerns, and explore mitigation strategies. Angela Licata, Deputy Commissioner of Sustainability at New York City Department of Environmental Protection and AMWA President, will moderate the discussion.
Panelists include:
Shauna Lorance, Public Utilities Director, City of San Diego

Jeff Masek, Assistant Director, Capital Projects, Houston Public Works 

Jason Rozgony, Chief Estimator, Carollo Engineers

Greg Ayres, Senior VP, Water and Advanced Technology Sectors, Sundt
Participants will have the opportunity to ask the panel questions.