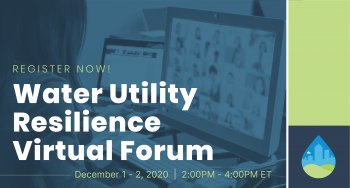 Join water sector peers and leaders on December 1 and 2 from 2:00 to 4:00 p.m. ET for an examination of recent challenges to utility resilience, including the response to the coronavirus pandemic. The forum opens on Day 1 with Kevin Phillips, town manager of Paradise, Calif., sharing his experiences with navigating two "black swan" events: the 2018 Camp Fire and the coronavirus pandemic. Next, a panel of water utility leaders will explore what resilience has meant for their utilities during this unprecedented time and what it will look like moving forward.
On Day 2, a panel comprising a financial expert and utility leaders will discuss financial resiliency for utilities, as they face the potential of declining revenues, provide payment relief, suspend shutoffs, and deal with increased costs associated with pandemic response. The forum will conclude with breakout discussions.
This event is being hosted by AMWA and the National Association of Clean Water Agencies in collaboration with WaterISAC and The Water Research Foundation. Visit the forum website to view the program agenda, see our list of generous sponsors, and to register!