Platinum Award for Utility Excellence
Like the Gold Award for Exceptional Utility Performance, the criteria for the Platinum Award for Utility Excellence are based on the Ten Attributes of Effective Utility Management and the Keys to Management Success. Applicants are expected to show progress in implementing the attributes and keys, as well as a distinctive level of management expertise and expanded utility achievement.

Three years after winning a Gold Award, member utilities are eligible to apply for the Platinum Award for Utility Excellence.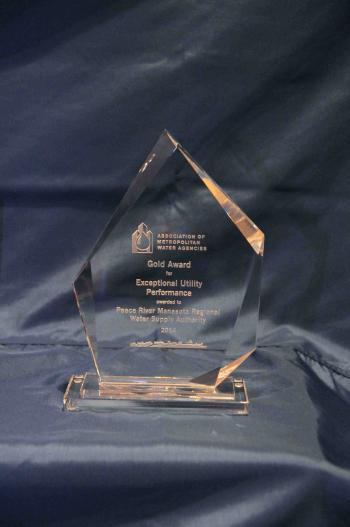 Orange County Water District
2022 Platinum Award for Utility Excellence
Orange County Water District (OCWD) is an international leader in water reuse and groundwater management and home to the Groundwater Replenishment System (GWRS) – the world's largest advanced water purification project for potable reuse. OCWD recently broke ground on the GWRS Final Expansion. Upon completion in 2023, the GWRS Final Expansion will recycle 100 percent of available wastewater flows, add 34,000 acre-feet per year of recycled water into the basin, and provide 130 million gallons of drinking water every day, enough to serve 1 million people. OCWD addressed PFAS in the basin by launching the nation's largest pilot project to test 14 types of treatment media and identify cost-effective treatment technologies. Sound planning and investment, exceptional water quality, environmental stewardship, sound fiscal management, and transparency are hallmarks of the system.
Seattle Public Utilities
2022 Platinum Award for Utility Excellence
Seattle Public Utilities (SPU) is committed to operational excellence, leverages technology, and ensures its investment decisions are informed by financial, environmental, and social impact life-cycle costs and benefits. SPU's Strategic Business Plan charts the utility's investments, operations, and service quality. Operational response, customer satisfaction, system performance, and equity and inclusion are among the performance metrics tracked by the utility. Workforce efforts focus on racial equity resulting in high numbers of hires and promotions for diverse populations. SPU also engages the community in robust outreach by offering financial assistance programs and investing to achieve community priorities.
Oklahoma City Water Utilities Trust
2021 Platinum Award for Utility Excellence
Oklahoma City Water Utilities Trust meets the challenges of its growing region by providing quality water, wastewater, and solid waste management services to 1.4 million residents. The award-winning utility maintains strong financial policies, prudent cash management, and balanced debt management as evidenced in its 2020 AAA/Aaa ratings by Standard and Poor's and Moody's. The utility instituted a continuous improvement program for employment development, and in its first year the program achieved $1.7 million in operational savings from employee led Six Sigma Lean Green Belt projects.
Central Arizona Project
2020 Platinum Award for Utility Excellence
Central Arizona Project (CAP) leads and innovates in all aspects of its business. Through collaboration, CAP ensures resiliency and sustainability of the system, maintains water quality, improves stakeholder understanding and support, and puts customer service in the forefront. Its custom-developed programs and processes contribute to success in employee leadership and development, excellence in infrastructure strategy and performance, and an ever-evolving asset management program. CAP's well-established financial planning cycle results in top bond ratings and award-winning work.
Great Lakes Water Authority
2020 Platinum Award for Utility Excellence
The Great Lakes Water Authority (GLWA) has been in continuous compliance with state and federal drinking water standards since its 2016 establishment. By optimizing operational efforts, it has experienced two rounds of rating agency upgrades by reaching AA category status in September 2018 and receiving further upgrades in March 2020. Focusing on collaboration and long-term sustainability, it boasts a 90 percent member partner satisfaction. It supports affordable programs and has kept its annual charge increases to less than half of its peers in the Black & Veatch Utility Rate Index. It achieved a systems-total of debt service savings of over $1 billion.
Houston Water
2020 Platinum Award for Utility Excellence
Houston Water provides drinking water and wastewater services to 2.3 million customers. Planning for sustainable, long-term utilities that are more resilient to the effects of climate change and other stressors, it is developing a strategic plan with the city's stormwater utility using a One Water approach. Its focus on asset management has helped to reduce operational costs and has allowed for development of a risk-based prioritization of preventive maintenance. It actively engages with stakeholders to meet or exceed expectations and has reduced its customer response time by 96,000 days, increasing customer satisfaction by 73 percent.
City of Fort Worth Water Utility
2019 Platinum Award for Utility Excellence
The City of Fort Worth Water Utility meets customer expectations and operates efficiently because of its reorganized management structure and emphasis on organizational development. Future work force challenges are addressed through programs with local universities, the community college and school district. The utility uses data to guide capital planning and development processes. Strong financial management policies allow it to keep the cost of debt low, while balancing new debt issuance with the impact to rates. Customer survey data is used to determine the focus of customer engagement activities, and operational improvements allow for enhanced customer service from field staff.
Coachella Valley Water District
2019 Platinum Award for Utility Excellence
Coachella Valley Water District focuses on water quality protection through its community-available, state-certified laboratory. And water system consolidation helps ensure delivery of safe drinking water. The utility's infrastructure reliability exceeds industry standards through an aggressive preventative maintenance program, and a new asset management program is improving capital management. Financial viability and security remain exceptional through prudent rate setting, consideration of water affordability, and maintaining capital assets. The utility addresses community sustainability through watershed protection, energy efficiency programs, and a focus on disadvantaged community infrastructure. Water resource sustainability is carefully managed through a diverse water supply portfolio and water supply projects.
Albuquerque Bernalillo County Water Utility Authority
2018 Platinum Award for Utility Excellence
The Albuquerque Bernalillo County Water Utility Authority's 100-year water resource plan emphasizes conservation and wise management of the regional underground aquifer while exploring innovative supply alternatives to improve the Water Authority's ability to deal effectively with contingencies such as drought. The utility's asset management plan allows it to keep up with increasing infrastructure needs to meet regulatory and operational requirements, as well as expected levels of customer service. Even as it asks customers for additional resources to reinvest in the water and sewer system, the Water Authority pursues ways to keep operating costs as low as possible by increasing energy efficiency, reducing injury hours and expanding the use of technology.
Fort Collins Utilities
2018 Platinum Award for Utility Excellence
Fort Collins Utilities' service levels enjoy strong community support and satisfaction as measured through customer satisfaction surveys. The professionalism, engagement and concern of its employees allow for sound operational and financial decisions to be made and effectively implemented. Through the utility's long-term operational and financial planning, the community enjoys safe, reliable, high-quality, affordable drinking water, a cornerstone of economic, social and environmental sustainability. Mature asset management program, strategic financial planning, ongoing employee development and continual process improvement strategies ensure that the community will continue to be served well in the future. This is evidenced by the municipal organization, including the utility services, being named a Malcolm Baldrige National Quality Award 2017 recipient.
Knoxville Utilities Board
2018 Platinum Award for Utility Excellence
The Knoxville Utilities Board's (KUB) Century II infrastructure management program ensures sustainable lifecycle replacement and maintenance programs with steady investment, incremental rate increases and equitable sharing of the costs for service between today's customers and future generations. Its state of the art water quality laboratory performs approximately 100,000 tests annually – many more than required by regulations. KUB workforce programs include leadership development, operator qualification, knowledge management and diversity initiatives. Sustainability initiatives include biosolids beneficial reuse, energy efficiency upgrades of plants and facilities and an alternative fuel fleet. Utility employees support local non-profit organizations through its VolTime program and help youth develop career skills with the TeenWork Program.
Anaheim Public Utilities
2017 Platinum Award for Utility Excellence
Anaheim Public Utilities keeps an eye toward maintaining stable rates for its customers while delivering reliable service and a high quality product. The utility invests in its employees, water infrastructure system and community through innovative employee development initiatives, carefully planned asset replacement programs and student engagement opportunities. These efforts resulted in the utility having one of the lowest water rates in its county, while water quality continues to meet and exceed state and federal standards. Its customer service is touted by J.D. Power as being in the top 15 percent of large water agencies in the western United States.