Platinum Award for Utility Excellence
Like the Gold Award for Exceptional Utility Performance, the criteria for the Platinum Award for Utility Excellence are based on the Ten Attributes of Effective Utility Management and the Keys to Management Success. Applicants are expected to show progress in implementing the attributes and keys, as well as a distinctive level of management expertise and expanded utility achievement.

Three years after winning a Gold Award, member utilities are eligible to apply for the Platinum Award for Utility Excellence.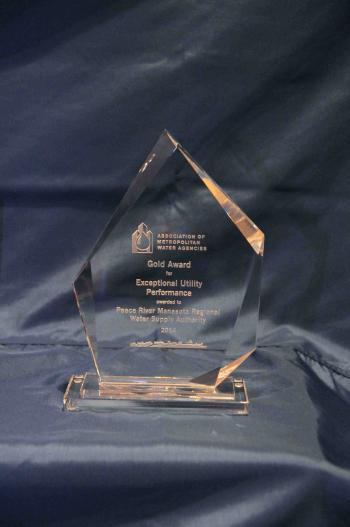 Oklahoma City Water Utilities Trust
2021 Platinum Award for Utility Excellence
Oklahoma City Water Utilities Trust meets the challenges of its growing region by providing quality water, wastewater, and solid waste management services to 1.4 million residents. The award-winning utility maintains strong financial policies, prudent cash management, and balanced debt management as evidenced in its 2020 AAA/Aaa ratings by Standard and Poor's and Moody's. The utility instituted a continuous improvement program for employment development, and in its first year the program achieved $1.7 million in operational savings from employee led Six Sigma Lean Green Belt projects.
Houston Water
2020 Platinum Award for Utility Excellence
Houston Water provides drinking water and wastewater services to 2.3 million customers. Planning for sustainable, long-term utilities that are more resilient to the effects of climate change and other stressors, it is developing a strategic plan with the city's stormwater utility using a One Water approach. Its focus on asset management has helped to reduce operational costs and has allowed for development of a risk-based prioritization of preventive maintenance. It actively engages with stakeholders to meet or exceed expectations and has reduced its customer response time by 96,000 days, increasing customer satisfaction by 73 percent.
Great Lakes Water Authority
2020 Platinum Award for Utility Excellence
The Great Lakes Water Authority (GLWA) has been in continuous compliance with state and federal drinking water standards since its 2016 establishment. By optimizing operational efforts, it has experienced two rounds of rating agency upgrades by reaching AA category status in September 2018 and receiving further upgrades in March 2020. Focusing on collaboration and long-term sustainability, it boasts a 90 percent member partner satisfaction. It supports affordable programs and has kept its annual charge increases to less than half of its peers in the Black & Veatch Utility Rate Index. It achieved a systems-total of debt service savings of over $1 billion.
Central Arizona Project
2020 Platinum Award for Utility Excellence
Central Arizona Project (CAP) leads and innovates in all aspects of its business. Through collaboration, CAP ensures resiliency and sustainability of the system, maintains water quality, improves stakeholder understanding and support, and puts customer service in the forefront. Its custom-developed programs and processes contribute to success in employee leadership and development, excellence in infrastructure strategy and performance, and an ever-evolving asset management program. CAP's well-established financial planning cycle results in top bond ratings and award-winning work.
Tualatin Valley Water District
2004 Platinum Award for Utility Excellence
The Tualatin Valley Water District (TVWD) continues to improve upon the competitiveness programs it developed over the last five years. Management, operations and maintenance contracts are continually renewed while the District provides full services to three public water utilities. All present strong evidence of competitiveness. The TVWD Board of Commissioners sets annual goals which allow the District to set new strategies to help it maintain its competitive edge and seek new solutions that lower the cost of water to customers while at the same time maintaining a high quality of water. TVWD's continued dedication to service earned a 96 percent good or excellent customer satisfaction score. A key objective in 2004 is to evaluate the District's three water sources for both cost competitiveness as well as water quality. As a result of this analysis, TVWD will determine where to invest anywhere from $300 million to over $600 million over the next 25 years. The District's long-standing competitive pay program, strong financial position, low employee turnover and low ratio of employees per capita continue to make TVWD highly competitive in the water service industry.
Tucson Water
2004 Platinum Award for Utility Excellence
Tucson Water measures customer service through surveys, focus groups and benchmarking studies. The utility has effectively reached out to Hispanic customers, succeeded at minimizing general rate increases and continues to effectively promote conservation through rates and programming. Organizational transformation is well underway, beginning with a comprehensive maintenance management program involving multi-skilled workers, skill-based pay and performance incentive pay, new organization and procedures, new technology, substantial training (including a leadership academy for all supervisory staff) and safety focus within the 5-Star Safety audit program. With significant employee assistance, Tucson Water is developing a Vision 2004 strategic plan to expand quality customer service and further achieve internal excellence. Its 50-year water resource plan, which explores alternatives to existing limited supplies, is nearly complete, using staff-developed tools. An internal Strategic Initiatives Team keeps abreast of issues potentially affecting the organization, and improved utility-wide planning led to the successful integration of the Colorado River into the Tucson Water system. Because Tucson Water has a real-time water quality information system, the utility is partnering with a number of national organizations and firms to test new real-time security systems and devices.
Washington Suburban Sanitary Commission
2004 Platinum Award for Utility Excellence
The Washington Suburban Sanitary Commission's (WSSC) journey to competitive achievement evolved through a number of critical stages. Rapidly approaching a decade of innovative initiatives, the journey began in the mid-1990s with the recognition and acknowledgment that privatization was a growing industry trend. Customers demanded cost and rate control as well as increased service levels. The WSSC had a high debt ratio, federal and state regulations required higher levels of treatment and the WSSC needed to adopt a more business-like approach. WSSC's is currently reengineering 14 of its business processes (including core processes), resulting in the implementation of revised work processes, skill-based compensation models, flexible worker programs combining multiple job descriptions, peer evaluations and performance measurement systems. Since 1996 WSSC successfully flattened the organizational structure and eliminated a level of management, including reducing management positions from 93 to 61 and cutting 643 staff jobs without adversely impacting productivity or safety while increasing salaries by 1.5 percent. WSSC proudly reports that it has not had a rate increase in six years while earning and maintaining the its first AAA bond rating from the three major bond rating agencies.
Salt Lake City Department of Public Utilities
2004 Platinum Award for Utility Excellence
Salt Lake City Department of Public Utilities (SLCPDU) maintains a high level of service to its customers and employees. The department emphasizes quality and retains a competitive position by providing excellent service at a reasonable price, and its success is reflected in high ratings from customers. The department's main achievements fall within four categories: customer focus, financial health, efficiency and effectiveness, and workforce quality. SLCPDU is continuously able to focus on these areas by tracking expressed goals monthly. Customer focus led to improved convenience for the customer through additional on-line services. Outreach to advisory groups during critical path policy development not only helped with approval but also acceptance. Not forgetting internal customers, union cooperatives, rewards and recognitions and an outstanding safety program make the SLCPDU a great place to work, and work force quality is fostered by a comprehensive internal training program. Financial health is critical to sustained success, and the SLCPDU's AA stand-alone bond rating is a notable achievement that reflects the utility's commitment to effectiveness and efficiency. In addition, its aggressive focus on source protection, water treatment optimization and distribution maintenance ensures quality drinking water at the customer's tap.
Seattle Public Utilities
2004 Platinum Award for Utility Excellence
Seattle Public Utilities sustained a range of competitiveness accomplishments. Currently, Seattle is applying the Triple Bottom Line concept in its economic analyses of capital projects and programs. This concept recognizes that actions, projects and programs have social and environmental outcomes as well as financial. These implications are quantified and weighed in decision-making processes. As Seattle evaluates proposed new projects and programs, the utility is looking at the costs and benefits over the lifetime of the project or program, not just the initial development and construction costs. This approach has already saved millions of dollars. Seattle has documented various customer and environmental service levels and established key performance indicators. It is working toward improving service levels in a variety of areas, including a recent initiative allowing customers to use Internet technology and interactive voice response technology to conduct business during and outside of normal business hours. Along with customer service improvements, Seattle also made significant improvements in crew productivity by establishing performance goals, developing monthly performance reports, consistent use of bi-weekly work programs, and developing and implementing best practices. As a result of these initiatives, 2003 water and wastewater operations and maintenance expenditures fell by eight percent.
Spartanburg Water System
2004 Platinum Award for Utility Excellence
The Spartanburg Water System (SWS) / Spartanburg Sanitary Sewer District (SSSD) recognizes that competitiveness with both public and private purveyors of water and wastewater services is essential to thriving in today's marketplace. To assure quality of life and continued economic growth in the community, SWS/SSSD vigorously pursued a path of benchmarking and continuous improvement under the umbrella of its Pursuing Excellence program. Through utilization of peer review via QualServe, independent third party competitiveness assessment, direct benchmarking against other utilities, customer and employee surveys and adoption of the WERF Balanced Scorecard Model, SWS/SSSD emerged as a strategy-focused organization. The benefits of this effort are many, including: a strategic planning process that balances customer needs; innovation, learning, and internal business processes with financial considerations; a more knowledgeable, diversely skilled and motivated work force; streamlined organizational and management structure; increased service area and revenue base; improved customer service and satisfaction as indicated by surveys; enhanced water quality and security; expanded water supply to meet one hundred year projections; reduced environmental compliance exposure; enhanced debt service coverage and reserve funding; and, improved bond ratings.
City of Portland Bureau of Water Works
2004 Platinum Award for Utility Excellence
The City of Portland Bureau of Water Works created and sustained a strong organizational culture of performance measurement built on a process called City-wide Service Efforts and Accomplishments. Portland's successes are augmented by active involvement in benchmarking and ongoing work to develop and apply a balanced scorecard for the organization. Portland consistently evaluated and redesigned work practices to improve productivity and effectiveness and made substantial progress in dealing with critical but historically difficult projects. Portland achieved a 24.8 percent reduction in its operating and maintenance budget over the last five years, using the savings to offset financial impacts of increased capital spending and to support rate relief to its customers. At the same time, the utility demonstrated a strong commitment to customer needs and carefully tracked performance and adjusted resources to ensure that performance targets were met. Portland maintains an Aa1 bond rating, demonstrating a strong organizational commitment to dealing with many challenges without undermining the utility's historically strong financial position. Finally, Portland prepared the organization for the future by investing in workforce training and development for key field positions and accomplished multiple objectives through this important program.
Las Vegas Valley Water District
2004 Platinum Award for Utility Excellence
The Las Vegas community has grown rapidly, flourishing from a population less than 800,000 in 1990 to over 1.7 million today. For providers of municipal services, the challenges posed by unprecedented growth are compounded by the worst drought in recorded history. Through advanced planning, proactive leadership on emerging issues and collaboration with regional partners, the Las Vegas Valley Water District (LVVWD) met these challenges with tremendous success. To meet the demands of an expanding community, the LVVWD is committed to a comprehensive program of continuous improvement, measured conservation and community activism. The program encourages employee and community involvement in making the LVVWD more responsive, effective and efficient. This includes using open and inclusive decision-making processes that involve the local community, regional partners and employees. The LVVWD leverages technology, teamwork and continuous skill development to build and maintain efficient and effective facilities and operations. In addition to its local purveyor responsibilities, the LVVWD manages the Southern Nevada Water Authority and operates the Southern Nevada Water System. By responding effectively to the challenges of growth and drought, the LVVWD has remained exceedingly competitive, while maintaining its corporate values of respect for people, integrity, service and excellence.