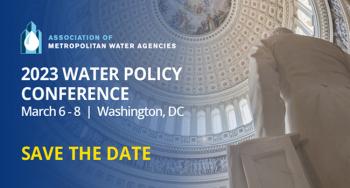 Mark your calendar today and plan to attend AMWA's 2023 Water Policy Conference in from March 6-8, in Washington, D.C.
Utility executives will get a first look at the nation's policy agenda during AMWA's 2023 Water Policy Conference, set for March 6-8. Taking place in the nation's capital at the Hilton Washington DC National Mall The Wharf, the conference provides the opportunity for water leaders to learn about federal administration and agency activities pertinent to the country's largest drinking water systems.
The agenda will feature prominent and authoritative Washington insiders, who will discuss legislative and regulatory goals on climate change, cybersecurity, environmental justice, emerging contaminants, lead service line replacements, among other relevant water sector topics.
What attendees should expect from this dynamic event:
Influential lawmakers will discuss committee legislative plans for the year.

Top officials from U.S. EPA and other federal agencies will provide

insights on the Biden Administration's regulatory priorities and timetables.

Participants also will have time to network and build relationships with colleagues and continue robust discussions.
General Manager of Fairfax Water Jamie Bain Hedges stated, "The Water Policy Conference was my first AMWA event, and I was impressed by the collegiality of the group and open exchange of ideas. I am looking forward to attending more events and broadening our participation."
Water utility executives should save the date, plan to attend the 2023 Water Policy Conference, and look for program specifics and online registration in December 2022.