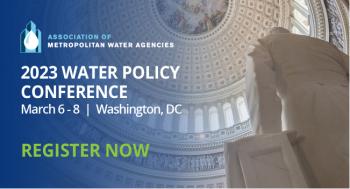 EPA Assistant Administrator for Water
Radhika Fox will share agency overview
One of the best ways to connect with other water utility leaders and learn more about Washington's policy agenda for this year is to attend AMWA's 2023 Water Policy Conference. Noted speakers from Congress, the Biden Administration, academia, and the press will share keen perspectives on the topics that will drive water utility management and operations over the upcoming months. Don't delay. Register by this Friday, January 27, at the best rates.
Highlighted Speaker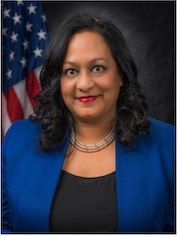 EPA Assistant Administrator for Water Radhika Fox has joined the conference program and will provide participants with a bird's eye view of the agency's 2023 agenda. Among other items, she will address the continued implementation of the Bipartisan Infrastructure Law and high-profile regulations on drinking water standards for PFOA and PFOS, MDBPs, and the forthcoming additional revisions to the Lead and Copper Rule Improvements.
AMWA also will present her with the Donald R. Boyd Award for her extraordinary service in the drinking water sector.
More confirmed speakers:
Rep. Paul Tonko (D-N.Y.), the lead Democrat on the House Environment and Climate Change Subcommittee, will discuss his party's drinking water agenda for 2023, which includes PFAS, infrastructure investment, water affordability, and other top-tier water policy issues.
Rep. Dan Kildee (D-Mich.), the House sponsor of the Financing Lead Out of Water (FLOW) Act, will discuss the bill's potential to help water systems more efficiently pay for lead service line replacements and will share additional 2023 water policy priorities to be addressed on Capitol Hill.
Jennifer McLain, Director of EPA's Office of Ground Water and Drinking Water, will give insight into drinking water rules for PFOA and PFOS, the Biden Administration's Lead and Copper Rule Improvements, and revisions to the Consumer Confidence Report Rule.
Jonathan Martin, bureau chief and senior political columnist for POLITICO, will provide attendees with an inside perspective on the interplay between the 118th Congress and the White House, and what it means for the political agenda in 2023.
Manny Teodoro, Associate Professor at the La Follette School of Public Affairs, University of Wisconsin-Madison, will share perspectives from his 2022 book, The Profits of Distrust: Citizen Consumers, Drinking Water, and the Crisis of Confidence in American Government on ways public systems can instill confidence in the safety and quality of drinking water.
Act now! The early bird registration discount expires on Friday, January 27, and the special AMWA hotel rate is available only until February 10.
Join the conversation on social media by using #2023WPC.