Benefits of AMWA Membership
National Representation on Drinking Water Issues
AMWA helps ensure that the perspectives of metropolitan water systems are heard in Congress and at regulatory agencies.
Resources for Water Executives

INSIGHT Utility Financial Information Database
A unique source providing comparable financial data for benchmarking and planning.

Engagement with Policymakers
We serve as the voice of the nation's largest publicly owned drinking water systems.

Water Policy Conference
Held each spring in Washington, D.C., the conference provides exclusive interactions with key federal legislators and top agency leaders.

Executive Management Conference
Held in a different city each fall, the conference provides thought leadership and lessons from water utility executives and industry experts.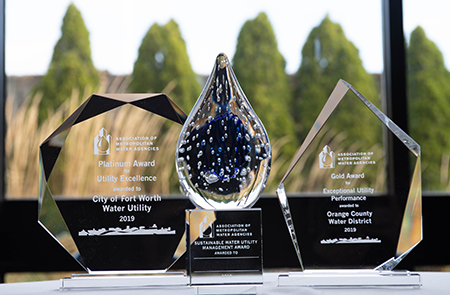 Peer-Reviewed Awards
AMWA honors member utilities for excellence in water system management and operations.

Leadership Center 
Take part in a one-of-a-kind development program for water and wastewater utility executives.
Conferences and Events
Gain exclusive access to key federal legislators, learn lessons from leaders within the field, and stay on the cutting edge of the industry.
AMWA Committees
Discuss key water policy issues and shape authoritative positions, policies, and products that advance the interests of the water sector.
Member to Member Inquiries
Submit questions and quickly receive feedback and recommendations from peers across the country.
AMWA welcomes all publicly owned drinking water agencies that serve at least 100,000 people. Water providers serving fewer than 100,000 people may join with the approval of the Board of Directors.
Request Membership Information
Dues
AMWA's annual dues are based on population served.
Public water supply agencies serving, directly or indirectly, a population of 100,000 or more people. Water systems serving fewer than 100,000 people may join as members with the approval of AMWA's Board of Directors.
Any organization, whether public or private, that is not eligible for membership in AMWA. The interests of the applicant must be compatible with the purposes and policies of the association.
Only AMWA members, acting through their designated representatives, may vote on association matters, serve on the board or as an officer, or serve on committees.