INSIGHT

Welcome to INSIGHT
AMWA's Utility Financial Information Resource
 
INSIGHT captures timely, relevant and authoritative data on the current water utility financial environment from participating member utilities and delivers that data in an Excel spreadsheet and via a user-friendly online dashboard.
The INSIGHT database is one of AMWA's most valuable management tools for members, a goldmine of useful financial information that can be applied to both financial planning and communicating with key constituencies on financial issues.  Through the dashboard and Excel spreadsheet, participating members can compare their own data to that of other utilities in the areas of capital assets, CIP budgets, debt, rate structures, revenue sources, expense categories, affordability programs and much more.
A record 117 AMWA member utilities completed the 2016 survey, an increase of 15 percent over 2014.  Results from the 2008, 2010, 2012, 2014 surveys are also included in the database, so users can take advantage of a decade of trending data. Since only AMWA members completed in the surveys, the data reflects input only from metropolitan drinking water systems, allowing uniquely meaningful comparisons. 
 
2018 INSIGHT Survey
The sixth INSIGHT survey was launched during the week of September 10, when survey forms were sent by email to all AMWA member utilities.  Utilities that completed the survey in earlier years received forms pre-populated with the information they provided to the survey in which they most recently participated.  They only need to respond to questions where their answers have changed.  New members since 2016 and all utilities that had not previously completed the survey received a blank survey form.  To receive another copy of your survey, contact Carolyn Peterson (peterson@amwa.net, 202-331-2820).
The updated database and dashboard, along with a general analysis of the revised data, will be available in late January 2019.  A webinar on the 2018 results will be conducted in February 2019.
 
Dashboard
The INSIGHT dashboard is an innovative data visualization tool that brings to life the wealth of intelligence gathered from the 2016 survey results, as well as data from past surveys for trending analyses. The dashboard allows members to produce colorful, exportable charts from 22 categories of data containing more than 100 metrics and to compare the data to their own utility's survey results.  And, there's even more useful data in the full Excel database described below.
Excel Database
The INSIGHT Excel database contains information gathered from 161 questions, capturing several hundred metrics. It contains all the data gathered in all five biennial surveys.
Download the INSIGHT Excel spreadsheet.
Note: Members may not share the INSIGHT database outside their own organizations.
 
Analyses of the 2016 Data
General analyses of the 2016 data by Raftelis Financial Consultants, Inc. were published in the January-February 2017 issue of AMWA's Water Utility Executive.
 
INSIGHT Webinar on Key 2016 Survey Results and Effective Use of the Dashboard
In February 2017, AMWA hosted an INSIGHT webinar, Water Utility Financial Trends and AMWA's New INSIGHT Dashboard, presented by Raftelis Financial Consultants, Inc., which oversaw the survey and database development.  The session covered key findings and trends from the 2016 utility financial information survey and a demonstration on how employing the new dashboard can help with utility financial planning and management.  Click the image to watch the webinar on Vimeo.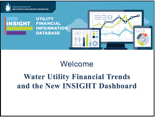 INSIGHT Access
Not in the INSIGHT database?  Only AMWA member utilities that completed the 2016 survey have access to the dashboard and Excel database.
Be sure to complete the 2018 survey by November 20 so you'll have access to this invaluable management tool when the updated database is released.  Contact Carolyn Peterson with any questions about INSIGHT access.