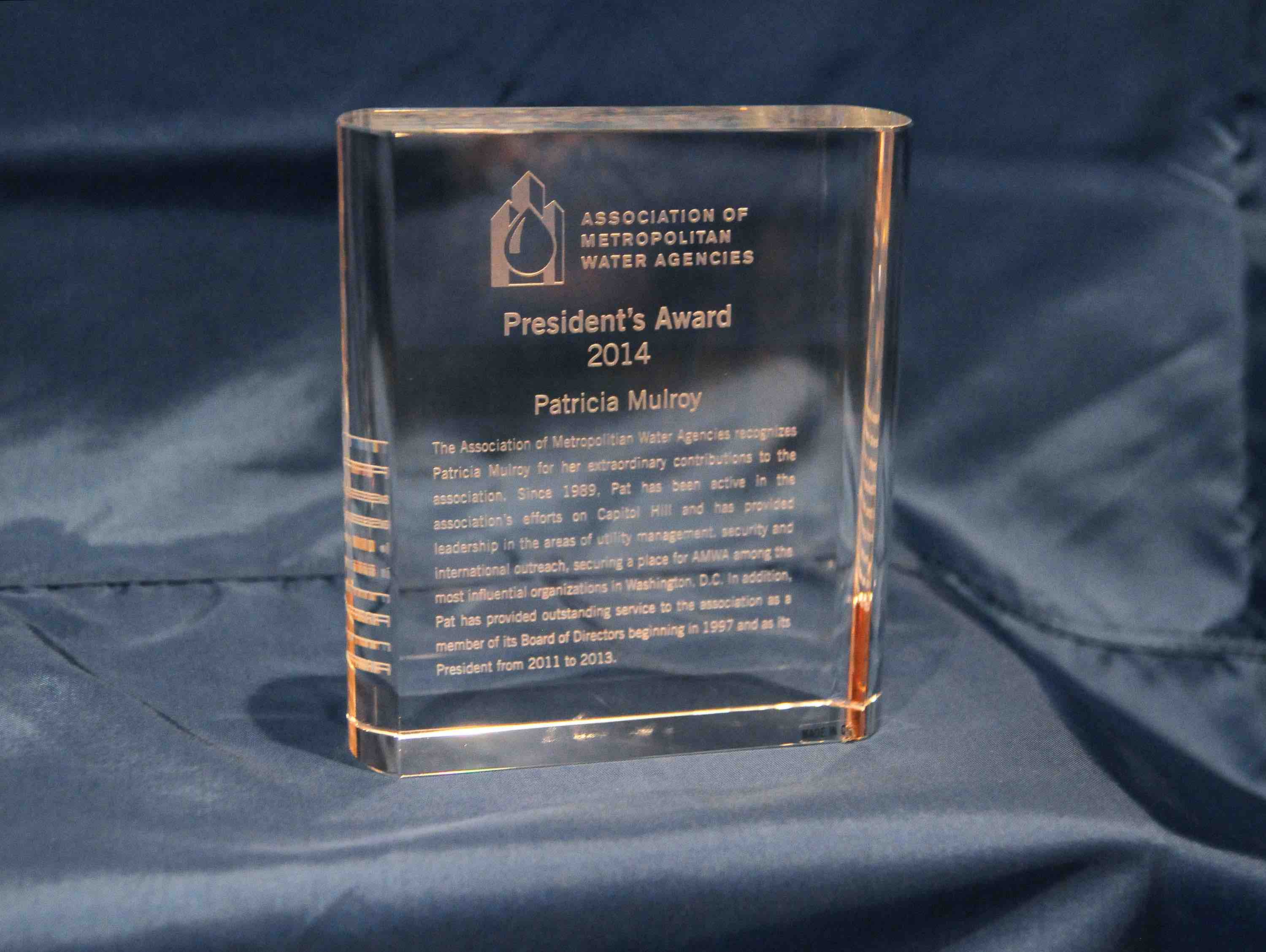 The AMWA President's Award is presented to individuals who have made outstanding contributions to the improvement of water supply management. Eligibility for this award is limited to individuals currently or formerly representing AMWA member agencies and recognizes their efforts and dedication in the field of drinking water supply.
Individuals nominated for this award must hold, or have held, a major position with a water supply agency while actively participating as a member of AMWA.
 The recipient of the President's Award is determined by the Nominations Committee, and the award is presented at the fall Executive Management Conference. Nominations are solicited in the summer by a bulletin from AMWA's national office.
Past AMWA President's Award Recipients:
2023 Rosemary Menard

2022 Carrie Lewis

2019 Charles M. Murray

2018 Douglas Yoder

2017 Kevin R. Gertig

2016 John P. Sullivan, Jr.

2015 Chuck Clarke

2014 Patricia Mulroy

2012 James McDaniel

2011 David E. Rager

2009 Hamlet "Chips" Barry

2008 David Visintainer

2006 Edmund Archuleta

2005 Frank Pogge

2004 Billy Turner

2003 Ken Merry

2002 Adam Kramer

2001 Bernie Bullert

2000 Brian L. Ramaley

1999 Julius Ciaccia

1998 John P. Sullivan

1997 Brian L. Ramaley

1997 Ed Means

1996 John Wodraska

1995 Buddy Williams

1994 L. D. McMullen

1993 Roy Jackson

1992 Rob Rivers

1991 Duane Georgeson

1990 C. J. Smith

1989 Ed Tenny

1988 Donald E. Jackson

1986 Sam Dixon