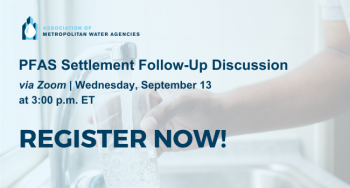 In response to the desire for another opportunity to discuss the details of the DuPont and 3M settlements among utility peers, AMWA invited all member executives, general counsels, and other relevant staff to a PFAS follow-up session.  The session was not recorded.
Discussion Slides from PFAS Follow up Town Hall meeting held on September 13.
Members should contact AMWA's Marketing and Events Coordinator, Wingel Caburian, with questions.
AMWA has established a PFAS: settlement and background information page (member login required).