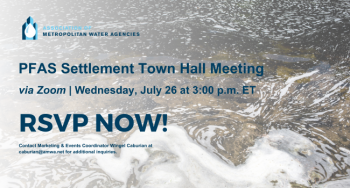 AMWA hosted a virtual PFAS Town Hall on Wednesday, July 26, from 3:00 p.m. to 4:30 p.m. ET to collect valuable information regarding settlements that 3M, Dupont, Chemours, and other chemical companies have begun to offer to water utilities. The recording of this event is available to AMWA members.
During the first hour, AMWA General Counsel Bob Saner moderated presentations from Napoli Shkolnik, Co-Lead Counsel for plaintiffs in the 3M and DuPont cases, about the proposed settlement terms. A representative of Marten Law also provided its perspective on the proposed settlements. Marten attorneys have been involved in PFAS litigation, representing several large water utilities in these same cases. Following the presentations, members asked questions before the firms concluded their portion of the event.
AMWA also will facilitated an open discussion among member utilities regarding considerations members are pondering in light of the settlement terms.
Members should contact AMWA's Marketing and Events Coordinator, Wingel Caburian, with questions accessing the program or related slides.