Gold Award for Exceptional Utility Performance
The Gold Award for Exceptional Utility Performance recognizes member water systems that exhibit high levels of performance in the areas of product quality, customer satisfaction, employee and leadership development, operational optimization, financial viability, community sustainability, enterprise resiliency, infrastructure strategy and performance, stakeholder understanding and support, and water resource sustainability. These are the ten Attributes of Effectively Managed Utilities identified in 2007 by a blue ribbon panel of water and wastewater utility executives.

Any AMWA member utility that has never won a Gold Award is eligible to apply for the Gold Award for Exceptional Utility Performance.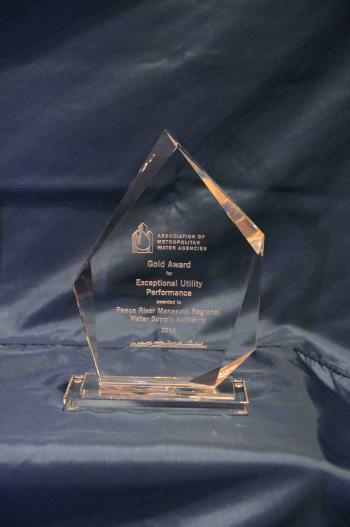 The City of Irving Water Utilities Department
2022 Gold Award for Exceptional Utility Performance
The City of Irving Water Utilities Department is a regional water leader that tackles water supply issues and expands supply resources. Employing a customer-centric ethic, the utility meets the needs of a growing and diverse community, from improving procedures in water quality sampling to implementing a new customer portal to increase communication. The system has among the lowest rates in the region without compromising infrastructure maintenance and renewal, using Advanced Metering Infrastructure, large meter testing, and a thorough meter replacement plan to ensure accurate billing and asset management. The utility also strengthens the skills of its workforce by facilitating the licensing of water professionals.
Cape Fear Public Utility Authority
2022 Gold Award for Exceptional Utility Performance
Cape Fear Public Utility Authority (CFPUA) is a regional leader in water treatment to remove PFAS. This year, CFPUA will bring a new deep-bed Granular Activated Carbon filter technology online at its primary water treatment plant, a $46 million investment to ensure the quality of the water provided to customers. Through CFPUA's 10-year Capital Improvement Plan totaling $511 million, the utility has a consistent focus on rehabilitation and replacement of aging infrastructure, resulting in significant decreases in sewer and water line breaks. Providing strong customer service is also central to CFPUA initiatives. Between 2017 and 2021, CFPUA implemented an Enterprise Resource Planning solution that improved customers' ease of doing business, from an online self-service portal to more accurate and efficient meter reading.
Cobb County-Marietta Water Authority
2021 Gold Award for Exceptional Utility Performance
Cobb County-Marietta Water Authority is the second largest supplier of drinking water in the state of Georgia. It is one of only a few utilities in the nation that has an organic AAA bond rating from all three major rating agencies and has won multiple awards from the Georgia Association of Water Professionals. Cobb County-Marietta has worked diligently over the last five years to reduce the number of pipeline failures, energy use, and per-capita consumption of water in its service area. Cobb County-Marietta also has a record of zero quality regulatory violations in the 11 years – setting high industry standards.
Rochester Public Utilities
2020 Gold Award for Exceptional Utility Performance
Rochester Public Utilities (RPU) has no water debt obligations and provides one of the lowest water rates in Minnesota. Its investment in mobile technologies and other efficiencies has resulted in more time spent serving customers. Over the past few years, RPU has collaborated with Rochester Public Works to plan joint replacement projects of aging infrastructure. The capital improvement plan includes the top 20 highest risk score water main sections being replaced in the next five years. As part of its sustainability study with state agencies, RPU protects groundwater sources to ensure long-term supply of drinking water while maintaining its precious natural resources.
Seattle Public Utilities
2001 Gold Award for Exceptional Utility Performance
Seattle Public Utilities (SPU)
Serves a population of 1.3 million people in the greater Seattle metropolitan area.
1,300 employees and a budget of $462 million for 2001.
Water system includes the Tolt and Cedar River watersheds and a small aquifer, as well as approximately 176 miles of supply mains and 460 millions gallons of storage capacity in transmission and distribution reservoirs, supporting nearly 150 mgd average water use.
Achievement Highlights: An aggressive water conservation program reduced per capita use by more than 20 percent over the past two decades. To meet a new set of challenges at the dawn of the next century, the Seattle Water Department was directed by the mayor to develop pathways to become more competitive and efficient, and at the same time to enhance customer service levels and environmental protection. Seattle Public Utilities was created in 1997 as one of the primary means of achieving these objectives through the merger of the water, wastewater, drainage and solid waste utilities. All SPU services now have performance measures based on desired end results, and performance results are reported to the utility director quarterly and discussed with management leaders to assure feedback and performance results are synchronized. An integrated Utility Call Center was created to provide seamless customer service related to any customer inquiries related to water, solid waste, drainage, wastewater and electrical services. Innovative approaches to facility development and alternative approaches to drinking water treatment saved SPU $70 million on the Tolt Treatment Plant by using design-build-operate (DBO), a estimated $150 million on the Cedar Treatment facility by moving to ozonation and ultra-violet technologies and a DBO approach, and approximately $100 million through more strategic approaches to reservoir covering and replacement. Though the integration of financial and administrative functions -- such as human resources, safety, information systems, finance, accounting, rates and communications services -- of three previously separate utilities, SPU achieved a cost saving of more than 10 percent without a reduction in service levels. An enhanced Capital Improvement Program (CIP) included redesigned support systems, development of standards and new processes, and increased annual capital completion from around 55 percent to 100 percent. This capital completion rate was accomplished for three years in a row, while the size of the CIP doubled from roughly $50 million in the early 1990s to more than $100 million in recent years. In addition, SPU has maintained Aa2 and AA bond ratings.
Spartanburg Water System
2001 Gold Award for Exceptional Utility Performance
Spartanburg Water System
Provides direct service to a population of approximately 110,000, and supplies water to nine wholesale customers serving a secondary population of approximately 73,000.
Operates three surface water reservoirs and two treatment facilities with a combined capacity of 79 mgd.
188 employees and an annual budget of approximately $22 million.
Achievement Highlights: Spartanburg Water System has developed and is implementing a program it calls Pursuing Excellence, which encompasses initiatives designed to ensure high levels of employee and public safety, regulatory compliance, resource conservation, customer service and competitiveness. Maintenance and construction activities have been consolidated, multi-functional work teams established and the number of management levels and positions significantly decreased through attrition. Laboratory services have been consolidated and a state-of-the-art laboratory is currently under construction. More efficient analytical technologies and automation are being implemented where available, and extensive training and cross-training is underway. Customer satisfaction is measured and evaluated on a periodic basis in order to determine satisfaction. A Management, Operation and Maintenance Program consistent with EPA and Primacy Agency CMOM program guidance has been implemented to identify potential problems and schedule preventive maintenance. A systematic inspection of treatment facilities and water storage tanks was undertaken to assess current physical integrity, projected life, and needed modifications or upgrades to meet future growth in the community and anticipated regulatory requirements.
Topeka Water
2001 Gold Award for Exceptional Utility Performance
Topeka Water
System includes a 63 mgd treatment plant, an 800-mile distribution system, 10 towers and reservoirs and nine pump stations.
Service population is 51,000 connections serving approximately 165,000 customers.
Employees number 108 and the annual budget is $18 million.
Achievement Highlights: Topeka Water, like many other water utilities, has operated an aging infrastructure that needs significant capital investment. At the same time, revenue growth was flat, operating costs were rising and customers were becoming vocal against significant rate increases. The following strategies were adopted: Phased capital projects consider financial restraints and better meet customer needs. Revenue enhancement opportunities were explored. Customer base growth became a key to better returns on existing investments. Completion of an aggressive meter change out program and negotiating wholesale water contracts achieved early revenue growth success. Operations and maintenance costs had to be controlled with the need to be competitive with private utilities. An aggressive staffing and process optimization program saved more than one million dollars in the first year. Many activities that were historically performed by in-house resources have been outsourced. Other changes include supervisor leadership skills, standard operating procedures, computerized mapping systems, computerized maintenance work orders, labor / management meetings, employee teams, training programs, and an enhanced safety program. Customer service has improved significantly with the adoption of new customer payment options and a charitable program that collects donations to help less fortunate customers with their utility payments. Customer complaints about red water and yard cleanups have dramatically reduced even though the work in customer yards has gone up over seven-fold.
Phoenix Water Services Department
2001 Gold Award for Exceptional Utility Performance
Phoenix Water Services Department
Serves 345,000 water accounts and 1.3 million people.
Operates five water treatment plants with a combined capacity of about 630 mgd.
Annual operating budget of about $205 million and a five-year capital improvement budget of about $1.5 billion.
Achievement Highlights: Five years ago, the Phoenix Water Services Department embarked upon a reengineering program designed to achieve eight goals related to achieving excellence in customer service, environmental stewardship, cost effectiveness, safety, optimal staff size, expanded and upgraded facilities and limiting rate increases. The department's management and labor formed a coalition to mutually pursue these goals and their efforts resulted in: An overhaul of work practices and staffing structure at all plants and a reorganization of all plant and facility maintenance support groups. A new Multi-Skill Worker Program that calls for workers to expand their capabilities to include both operations and maintenance skills and provides a new pay scale to reward those bringing greater skills to the job. A highly planned and coordinated maintenance program; minimized off-shift staffing; expansion of first-line workers' roles to include simple and basic journey-level tasks; increased applications of technology to leverage worker productivity; and realignment of internal work groups. A recent independent audit showed annual cost savings achieved by the reengineering program are greater than $12 million. Customers benefit from the effort through improved service levels and the fact that charges for water and sewer service are among the lowest in the country.
Portland (Maine) Water District
2001 Gold Award for Exceptional Utility Performance
Portland Water District, Maine
Provides water, wastewater and environmental services to 10 communities.
Serves approximately 46,000 customer accounts, or 171,000 people, with its 190 employees.
Manages $215 million in assets operating over approximately 140 square miles.
Has an annual operating budget of $28.9 million and a $10 million capital improvement budget.
Achievement Highlights: In 1997, the Portland Water District's governing board adopted a three-year competitiveness strategy to close the gap identified in a comprehensive review of all organizational work processes. Among the goals identified were to reduce the O&M budget, invest in technology, encourage employees to become multi-skilled, and accomplish all objectives without employee layoffs. By late-2000, all the above initiatives had been achieved: Staffing was reduced by 13 percent through attrition and voluntary, early retirements. A Technology Master Plan was prepared, which has guided the investment in SCADA, GIS, data warehousing, etc. Several areas were reorganized to promote cross-training, optimal performance, and communication, including such areas as maintenance, laboratories and field operations. Not only have costs been contained, but two water rates decreases also have been implemented - a 9.5 percent decrease in 1999 and a 2.2 percent decrease in 2000. Further, a direct dividend equivalent to one month's typical water bill was distributed as a billing credit to all customers in 2000. PWD has employed multi-disciplinary teams to reengineer work processes, implemented pay for performance measures, established corporate and departmental goals that are measured annually, and increased its communication efforts with employees and its customers. Employee and customer satisfaction surveys are used to assess progress towards strategic goals and to direct changes.
Philadelphia Water Department
2001 Gold Award for Exceptional Utility Performance
Philadelphia Water Department (PWD)
Approximately 2,100 employees.
Operates three water plants treating an average of approximately 300 million gallons of river water each day and maintains approximately 3,300 miles of water mains.
Supplies drinking water to 1.5 million retail customers in the City of Philadelphia and another 150,000 residents of Lower Bucks County.
Annual operating budget of approximately $427,527,000.
Achievement Highlights: Since 1992, PWD went from a period of double-digit rate increases to no increases for the past five years as the utility implemented a competitiveness strategy within its strategic plan. Below are examples of the PWD's success in implementing those strategies: Moved from quarterly to monthly billing for significant collection rate increases. Launched the largest automatic meter reading (AMR) project of any United States water utility, public or private. AMR is projected to achieve cumulative financial benefits over the 20-year useful life of the system estimated at $30 million, in net present value. Minimized the cost of debt service by refinancing debt in favorable market conditions, saving over $61 million in debt payment, in net present value, since 1995. Began assigning and monitoring service-level goals, on a monthly basis, for units. Expanded safety programs to reduce employee injuries and help employees who are injured return to work more quickly. As a result of such efforts, the number of PWD workdays lost because of injuries has declined steadily from a peak of 4,821 in FY 93 to only 1,432 in FY 2000. Moved to obtain more feedback from customers by performing "point-of-service" customer satisfaction surveys. Following the completion of extensive wastewater plant expansion and upgrades, PWD is now shifting more of its capital resources to water main and sewer replacement and rehabilitation. Implemented a Capital Facilities Assessment Program that inspects the condition of major facilities in order to minimize the cost of repairs and significant operational and service disruptions.
Las Vegas Valley Water District
2001 Gold Award for Exceptional Utility Performance
Las Vegas Valley Water District (LVVWD)
Largest municipal water purveyor in the state of Nevada serving over 890,000 individuals, plus over 30 million tourists per year.
919 employees.
Annual operating budget exceeding $261 million.
LVVWD manages a local water system comprised of 35 reservoirs, 44 pumping stations, 2,771 miles of pipeline with a maximum capacity of 600 mgd.
Achievement Highlights: To meet the demands created by an expanding population, the LVVWD has committed itself to a rigorous and comprehensive program of continuous improvement. LVVWD's team environment fosters creative and innovative solutions, which are reinforced through employee recognition activities such as the General Manager's Five-Star Award, Leader of the Pack Award, Spotlight on Excellence Program, and other tools. Intra-divisional teams, such as the Maintenance Improvement Team, use technology, flexible work schedules, new processes and organizational strategy as tools to solve preventative and predictive maintenance issues. They are also used to find creative solutions to increase efficiency and enhance service levels. Cross-functional teams make use of neutral facilitators to guide the team through the process and ensure all participants have an opportunity to contribute. To date, eight American Productivity Quality Center process improvement led teams have implemented recommendations, providing the District with over $5.3 million in net program savings. The LVVWD also leverages technological advancements to foster improvements in efficiency and customer service. For instance, Meter Services has an Automated Meter Reading (AMR) strategy to improve service to our large Las Vegas strip hotel and casino customers while the Production Division is refining a Computerized Maintenance Management System to centralize coordination between shops, customers and support groups. The LVVWD engages in benchmarking and simulated competitive exercises to assess competitiveness, set minimum performance and proficiency standards and set stretch goals. Internal benchmarking for activities unique to LVVWD make use of recent innovations in reliability-centered maintenance, failure mode analysis and continuous time-in-motion studies. Local residents participate through a variety of mechanisms, including citizen advisory committees, customer surveys, workshops and public events. Customer satisfaction is continuous monitored through the use of customer contact cards, web-based comments, customer surveys and public outreach events. Our goal in seeking community participation is threefold: to increase community awareness; discover innovative, mutually beneficial solutions; and become a more open and transparent stakeholder in water resource issues.
Massachusetts Water Resources Authority
2001 Gold Award for Exceptional Utility Performance
Massachusetts Water Resources Authority
MWRA is the wholesale water provider to 60 communities and 2.5 million people in metropolitan Boston and central Massachusetts.
MWRA provides about 250 mgd.
In FY01 MWRA has 1576 employees and an annual current expense budget of $498 million.
Achievement Highlights: MWRA has successfully completed many competitiveness improvement initiatives over the past several years. Performance of the MWRA's drinking water quality has risen dramatically due a series of interim projects to improve watershed protection, source water quality, primary and residual disinfection, corrosion control and removal of open distribution storage. MWRA has met the tough federal and state rules for unfiltered water systems, successfully sought approval from the state and a federal judge that filtration was not needed and is now constructing a centralized treatment system using ozone disinfection. MWRA has also implemented pump station upgrades and automation, an accelerated pipeline rehabilitation program for the MWRA distribution system (280 miles, 80 percent unlined cast iron mains) and a no-interest loan for community systems (5600 miles, 47 percent unlined), and an aggressive multi-year program to improve valve operability through exercising and replacement. Included in this ten year, $1.7 billion capital improvement program is a 17.6-mile deep rock tunnel to insure continued reliable delivery of water. MWRA has recently realigned its management organization to streamline operations and promote cross-functionality between the water and sewerage systems that were run separately for many decades. A Chief Operating Officer position was created and filled and a consolidated water/sewer operations building is under construction. Major investments have also been made in technical and professional development training programs for staff and managers. Internal communication is supported by a weekly newsletter, an intranet system and Labor-Management committees on topics such as the competitiveness and staffing study.