Gold Award for Exceptional Utility Performance
The Gold Award for Exceptional Utility Performance recognizes member water systems that exhibit high levels of performance in the areas of product quality, customer satisfaction, employee and leadership development, operational optimization, financial viability, community sustainability, enterprise resiliency, infrastructure strategy and performance, stakeholder understanding and support, and water resource sustainability. These are the ten Attributes of Effectively Managed Utilities identified in 2007 by a blue ribbon panel of water and wastewater utility executives.

Any AMWA member utility that has never won a Gold Award is eligible to apply for the Gold Award for Exceptional Utility Performance.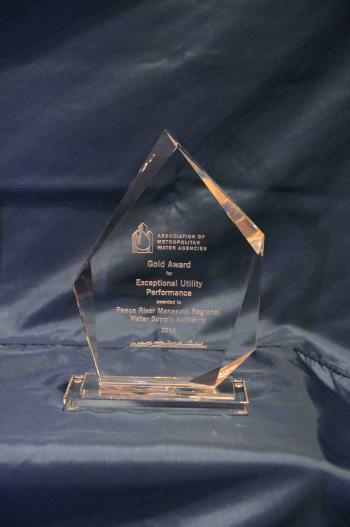 Cobb County-Marietta Water Authority
2021 Gold Award for Exceptional Utility Performance
Cobb County-Marietta Water Authority is the second largest supplier of drinking water in the state of Georgia. It is one of only a few utilities in the nation that has an organic AAA bond rating from all three major rating agencies and has won multiple awards from the Georgia Association of Water Professionals. Cobb County-Marietta has worked diligently over the last five years to reduce the number of pipeline failures, energy use, and per-capita consumption of water in its service area. Cobb County-Marietta also has a record of zero quality regulatory violations in the 11 years – setting high industry standards.
Rochester Public Utilities
2020 Gold Award for Exceptional Utility Performance
Rochester Public Utilities (RPU) has no water debt obligations and provides one of the lowest water rates in Minnesota. Its investment in mobile technologies and other efficiencies has resulted in more time spent serving customers. Over the past few years, RPU has collaborated with Rochester Public Works to plan joint replacement projects of aging infrastructure. The capital improvement plan includes the top 20 highest risk score water main sections being replaced in the next five years. As part of its sustainability study with state agencies, RPU protects groundwater sources to ensure long-term supply of drinking water while maintaining its precious natural resources.
DuPage Water Commission
2019 Gold Award for Exceptional Utility Performance
DuPage Water Commission has paid off all debt and has fully funded its pension obligations in the period since its founding in 1992. The utility's assets are in the early stages of their useful life and are proactively maintained. The Commission earned a AAA bond rating, fully funded its five-year capital plan with a budgeted CIP of $30M and established a long-term capital reserve. It created a water conservation and protection program and has participated in over 75 events promoting water sustainability. A three-year operator trainee program was initiated for trades along with a college engineer internship program for engineering students.
Orange County Water District
2019 Gold Award for Exceptional Utility Performance
Orange County Water District is an international leader in water reuse and groundwater management and is home to the Groundwater Replenishment System – the world's largest advanced water purification project for potable reuse. The District was the first to use reverse osmosis to purify wastewater to drinking water quality. It created the largest constructed wetlands in the West to help purify Santa Ana River waters and for greater water yield while protecting endangered species. Sound planning and investment, high standards for water reliability, exceptional water quality, environmental stewardship, strong financial management, and transparency are the District's hallmarks and standards.
City of Ann Arbor Water Utility
2018 Gold Award for Exceptional Utility Performance
The City of Ann Arbor Water Utility is committed to delivering exceptional service to its customers, to strategic decision-making and to investment in its staff. Ann Arbor was one of the first utilities in the state of Michigan to implement a conservation-based inclining block rate structure, a forward-thinking approach to rate development that enabled it to apply its sustainability goals to how it charges for its services. The utility was also the first in the state to use ozone as its primary disinfectant. By innovating and partnering with institutions like local universities, Ann Arbor is continually looking for new ways to cost effectively provide outstanding service to its customers.
Cleveland Water
2018 Gold Award for Exceptional Utility Performance
Cleveland Water monitors and protects the health of its Lake Erie source water by optimizing its four interconnected water treatment plants. The utility has aggressively tackled the issue of water loss by leveraging expanded capital investment, new technologies and data analysis. Investments in upgraded automated meter reading technology have improved service levels and allow more effective communication with customers regarding their water use. Cleveland Water has also invested in technology and training to improve customer service, resulting in measurable improvements to service delivery across its meter operations, billing services, call center and collections operations. Through a combination of smart planning and hard work, the utility has held rates constant for three years.
Greenville Utilities Commission
2018 Gold Award for Exceptional Utility Performance
Greenville Utilities Commission's (GUC) mission is to enhance the quality of life for those it serves by safely providing reliable utility solutions at the lowest reasonable cost, with exceptional customer service in an environmentally responsible manner. Strategic plan goals include employee workforce development, financial stability, water supply sustainability, exceptional customer service, water quality and environmental leadership, and infrastructure investment and management. The staff at GUC's water treatment plant met the goals to earn the Area Wide Optimization Program (AWOP) Award from the North Carolina Department of Environmental Quality for the past three years. The AWOP requirements are more stringent than the U.S. Environmental Protection Agency's existing regulations, helping GUC achieve higher levels of water quality.
Baltimore City Department of Public Works
2017 Gold Award for Exceptional Utility Performance
The Baltimore City Department of Public Works (DPW) embraces change management, sets smart, achievable goals, and plans for long-term continuous improvement and sustainable change. By utilizing stakeholder values and beliefs, DPW created a strategic plan with measurable objectives and timeframes, built goal teams comprised of employees from all areas of the organization, introduced a performance monitoring and guiding office, and reorganized the utility's structure to break down silos and facilitate intra-agency communication and workflow. Empowering front-line staff was essential to meeting customer expectations for clean water, a clean city and effective access to DPW services.
Great Lakes Water Authority
2017 Gold Award for Exceptional Utility Performance
Since its standup in 2016, Great Lakes Water Authority (GLWA) has achieved continual provision of water of unquestionable quality and efficient sewer services; two upgrades of its bond ratings; and execution of an inaugural $1.3 billion bond sale. GLWA also launched a program to provide qualifying households with help in paying current and past-due bills. It inaugurated an Apprenticeship Program for Electrical Instrumentation Control Technicians and created a leadership-training academy to build employees' leadership skills. The Authority developed an asset management governance structure and continued focus on its environmental impact with the operation of its new Biosolids Dryer Facility.
Oklahoma City Water Utilities Trust
2017 Gold Award for Exceptional Utility Performance
The Oklahoma City Utilities Department and Oklahoma City Water Utilities Trust strive to meet the city's growth by securing surface water rights through a groundbreaking water rights agreement. The department develops leadership opportunities for employees across all divisions by encouraging safe workforce practices, accountability and customer service. Its Standard and Poor's (AAA) and Moody's (Aaa) bond ratings were reaffirmed in 2015, and strong financial principles place it in the top 5.5 percent of water utilities nationwide. A strategic business plan helps it weigh community needs against available capital and personnel resources with 59 key strategies to continually monitor progress and make improvements.
Central Arizona Project
2016 Gold Award for Exceptional Utility Performance
The Central Arizona Project (CAP) plays a critical economic role, delivering more than 1.5 million acre-feet of Colorado River water annually to municipal, industrial, agricultural and Native American water users. CAP works collaboratively with customers, government agencies, water users in the seven basin states and the Republic of Mexico to address regional water supply issues. The agency helped develop cooperative interstate and international agreements designed to conserve Colorado River water and ensure the continued reliability and sustainability of that shared water supply. It employs open, transparent budgeting and rate-setting processes, and a recent assessment found CAP's asset management program led all surveyed North American utilities.
City of Richmond Department of Public Utilities
2016 Gold Award for Exceptional Utility Performance
The City of Richmond Department of Public Utilities' (DPU) Enterprise Asset Management Plan assists in coordinating planning and management of projects across the city and includes components to maintain inventory and maintenance schedules, track key performance indicators and capture Standard Operating Procedures in a centralized location. DPU has continually been in compliance with all federal and state drinking water requirements and new technologies have been adopted to improve operational efficiencies. The Department engages and educates customers through its website, newsletters, social media posts and advertising. DPU staff present information at community meetings, and a Citizens' Academy was developed to provide a more in-depth look at utility operations.