Sustainable Water Utility Management Award
AMWA's Sustainable Water Utility Management Award, introduced in 2014, recognizes member utilities that have made a commitment to sustainable management. There are many opportunities available to water utilities to manage sustainably; each water system has its own water resource needs, infrastructure issues, financial position, political issues, energy costs, and other challenges.

This award views sustainability through a triple bottom line lens. Winners will have achieved a balance of innovative and successful efforts in areas of economic, social, and environmental endeavors, such as responsible management of resources, protection of public health, meeting responsibilities to the community, and providing cost-effective services to ratepayers.

The Sustainability Award is the third step in AMWA's awards programs and is the only one of these awards that can be earned more than once. Member utilities can apply for their first Sustainability Award three years or more after winning a Platinum Award. After winning a Sustainability Award, they are eligible to apply for the award again when three years or more have elapsed.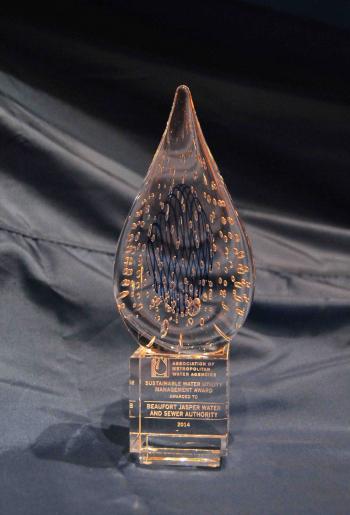 Aurora Water
2019 Sustainable Water Utility Management Award
Aurora Water relies on a complex and cohesive system of conservation, reuse, and storage to ensure the community has the water it needs today and tomorrow. The utility has the highest reuse rate in Colorado due to its pioneering Prairie Waters system, which provides up to 10 million gallons per day, and returning high-quality water to the homes from which it came. Aurora Water is also actively acquiring additional water in a sustainable way, including working with agriculture on mutually beneficial methods to continue farming while meeting municipal needs, and innovative water purchases from industries such as gold mining, providing additional environmental benefits.
Beaufort-Jasper Water & Sewer Authority
2019 Sustainable Water Utility Management Award
The Beaufort-Jasper Water & Sewer Authority accelerated its galvanized/cast iron service line replacement program with a commitment of $8 million to fund full replacement. Other initiatives include enhanced call center metrics, new metering and bill-paying initiatives, increased workforce investment, as well as enhanced predictive maintenance and asset management strategies. The new $30 million Hardeeville Water Reclamation Facility expansion produces highly treated reclaimed water quality effluent. And, in 2018, the utility achieved more than one million safe work hours without an injury resulting in a lost workday as a result of compliance with its robust safety program. It previously won the Sustainable Water Utility Management Award in 2014.
Birmingham Water Works Board
2019 Sustainable Water Utility Management Award
The Birmingham Water Works Board's Historically Underutilized Business (HUB) program is designed to encourage participation of HUB firms on construction projects and the acquisition of goods and services, with a goal of 30 percent participation. The utility uses drones to perform aerial inspections of tanks and property and monitor hydraulic flow and routes of the utility's source waters. Solar-powered mixing systems in Lake Purdy and in drinking water storage tanks help minimize rate increases and the system's carbon footprint. Its A World Without Water school program targets area fifth grade students to engage and excite them about the importance of water. The utility won its first AMWA sustainability award in 2015.
Chesterfield County Department of Utilities
2019 Sustainable Water Utility Management Award
The Chesterfield County Department of Utilities' annual performance plan tracks over 100 annual and historic performance measures from every center within the department to align its goals and objectives. Competitive rates that adequately recover costs, provide for reserves, and prepare for future needs have put the department in a strong financial position, maintaining a triple AAA bond rating and ensuring financial stability. Its environmental management system has expanded to incorporate a health and safety component, and it strives to meet the needs of its growing community through innovative approaches to demand management, waste reduction, and overall process improvements. The utility won its initial sustainability award from AMWA in 2014.
City of Boca Raton Utility Services Department
2019 Sustainable Water Utility Management Award
At the City of Boca Raton Utility Services Department, reclaimed water is a sustainable resource that reduces use of the ocean outfall, recharges the aquifer, prevents salt water intrusion, and provides a cost-effective water source for irrigation. Over the past 10 years, public outreach and increased reclaimed water use led to a decrease in the per capita use of nearly 20 percent. The utility has a goal of reducing the use rate an additional five percent by 2025 through public outreach, particularly on landscape irrigation. It currently has 31 capital improvement projects for maintaining a high level of service and ensuring continued safe and sustainable infrastructure. The utility also won a sustainability award from AMWA in 2014.
Columbus Water Works
2019 Sustainable Water Utility Management Award
Columbus Water Works addresses impacts to its major drinking water source, the Chattahoochee River, through source water assessment, water quality monitoring with real-time notification, a watershed protection plan, and a Creek Walker program to ensure proper functioning of sanitary sewer infrastructure. The utility's water conservation and efficiency plan addresses water loss auditing and reporting, water loss control, water metering, and rate-making policies. Its new environmental lab building features LED lighting and motion sensors detection, water-saving plumbing fixtures, and reflective roofing. Its fats, oil and grease recycling program provides an alternative energy source through two methane-fueled generators at its wastewater plant. The utility was also awarded an AMWA sustainability award in 2014.
Fort Wayne City Utilities
2019 Sustainable Water Utility Management Award
Fort Wayne City Utilities is committed to the efficient, cost effective, and environmentally responsible use of energy. Its combined heat and power system at the wastewater treatment plant takes methane produced during the treatment process to power the plant, reducing electricity purchased. On-going interaction with customers helps ensure its products, service levels, operations, and financial plans reflect a balance between the desires of customers, the utilities' obligation to fulfill regulatory requirements, and the responsibility for stewardship. Partnering with Riverfront Fort Wayne, the utilities promote plant tours so customers can understand the human-made water cycle.
Newport News Waterworks
2019 Sustainable Water Utility Management Award
Newport News Waterworks has owned significant portions of its watersheds since its founding in 1889. This ownership, supplemented with regulatory controls, structural improvements, inspections, water quality monitoring, and forest management, provides robust source water protection. Waterworks has adopted a solid and cohesive asset management program framework using mobile devices for asset condition assessment, procuring best-in-class asset management software, and prioritizing risk-based capital planning. The utility's sustainability mission rests on providing high quality drinking water, preserving grandfathered water rights and watershed sovereignty, embracing new technology, capitalizing on data-rich analytics, supporting a talented workforce, and providing strong executive transformational leadership.
Phoenix Water
2019 Sustainable Water Utility Management Award
Phoenix Water's successes include acquisition of water resources to meet demand 100 years into the future. Energy consumption has been reduced by adoption of electronic processes such as electronic work order systems, automated meter reading, and an automatic vehicle locator system, which have increased efficiency, reduced miles driven, and improved customer service. Extensive community outreach and education efforts surrounding conservation and pollution prevention have resulted in a 27 percent decrease in water usage over the last 20 years. Some 140 million gallons of wastewater per day is reused to irrigate crops, rehabilitate wetlands, produce electricity, and recharge groundwater.
Raleigh Water
2019 Sustainable Water Utility Management Award
Raleigh Water addresses sustainable environmental management by taking a multi-faceted approach to long-term water resource requirements, including demand management, long-range planning, source water protection, and a hydrologic-based water shortage response system. The utility also provides services to increase energy efficiency, conservation, and alternative energy sources through initiatives like the Anaerobic Digestion Bioenergy Recovery Project. Its customer assistance program supports customers in need of financial assistance, and its watershed protection program directly engages stakeholders through sponsorship of community groups and regional planning organizations. Significant financial management progress was made by implementing a departmental multi-year business plan and utility management system.
San Antonio Water System
2019 Sustainable Water Utility Management Award
San Antonio Water System's (SAWS) diversified water portfolio consists of 16 water projects from eight different sources, including its brackish groundwater desalination plant. Its strong credit rating provides flexibility to plan for its community's future in a fiscally responsible way. Robust conservation efforts proactively engage customers, and since 1993 the gallons per capita per day for its service area has declined 28 percent while still absorbing new customers. SAWS was among the first water systems in the nation to provide bill payment assistance to vulnerable customers, and its Affordability Discount Program offers direct financial assistance to more than 30,000 households.
Spartanburg Water
2019 Sustainable Water Utility Management Award
Spartanburg Water's sustainable business model utilizes long-term planning for future needs and a five-year financial plan to assure that daily operational needs and required debt service are met, assets are properly managed and maintained, and infrastructure replacement needs are considered. The utility cooperates with federal and state agencies and a local university to find environmentally safe solutions for annual algae problems in its lakes and reservoirs. Energy efficiency is achieved with hydroelectric generators to offset power costs and implementation of small-scale solar installations at water tanks to power SCADA instrumentation. Community programs include an employee day of service and Pontoon Classroom. The utility earned its first AMWA sustainability award in 2014.